Sanitary Bakery Company - Superior


Sanitary Bakery was located in Superior at 1808 Ogden Avenue. It was owned and operated by Louis Arthur Handlovsky (1897-1974) beginning prior to 1925. Louis was later employed by City Market until his retirement in 1965.
The 1908 news article below indicated that Sam Bear was operating a bakery and was fined for running an unsanitary food factory. The next news article from 1909 shows an ad for an unnamed bakery being run by S Handlovsky, presumably Sam.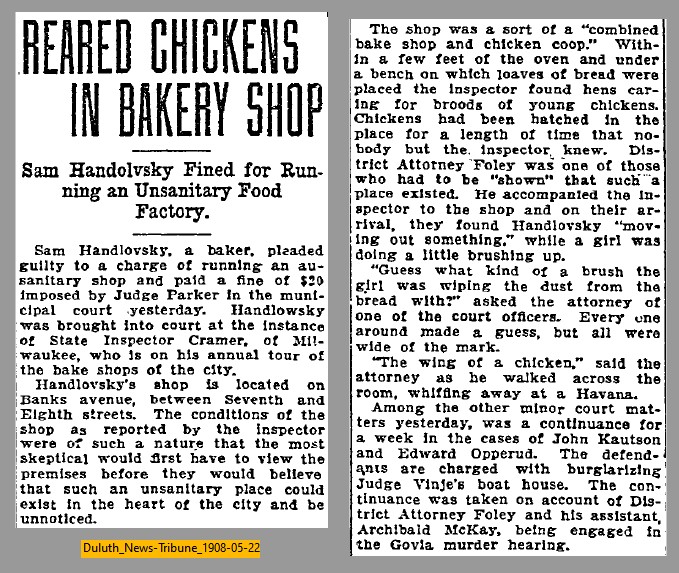 source: Duluth News Tribune - 1908-05-22



source: Duluth News Tribune - 1909-03-15


The 1925 city directory shows that Sam had died in 1924 and that Louis Handlovsky (his son) was the propriator of Sanitary Bakery Company. The bakery was named sometime between 1909 and 1924 apparently because of Sam's earlier citation for unsanitory conditions. Louis's obituary further below confirms his role as owner and operator of the bakery.


source: 1925 city directory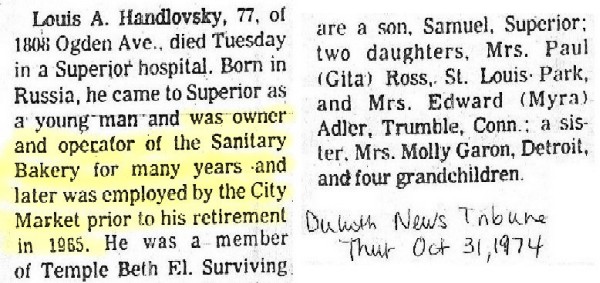 Obituary for Louis Handlovsky (1897-1974)


Louis Handlovsky (1897-1974) was a son of Ethel Handlovsky (1875-1950) and Samuel H Handlovsky (1870-1924). Louis's sister Mollie Handlovsky Garon (1900-1983) was married to Tobias Garon (1900-1961). According to the directory listing above, Louis and his mother and sister lived at the same address as the store.
Louis was married in 1923 to Esther Karon Handlovsky (1900-1971), and they had three children as shown in the two-generation descendents list shown below.


source: Jack's Family Tree Database



| | | |
| --- | --- | --- |
| Created by: Allan@Garon.us | Feedback always welcome! | Page created May 2022 |