Siegel Bros and Siegels - Superior


Siegel Bros and Siegels were two names for the same business. The store was originally located at 720-722 Tower Avenue and later at 1120-1122 Tower Avenue in Superior. It was owned and operated by Aaron Siegel (1870-1951) and Elias Siegel (1871-1941), brothers and sons of Esther and Sabse Chaim Siegel. The company was registered with Wisconsin Corporates in 1960 as Siegel Bro., Inc. The registered agent was listed as David M Aronsohn and the status of the company is "Administratively Disolved." Aaron Siegel and Elias Siegel had previously started Keystone Loan Company in 1897 which was later operated by a third brother, Jacob David Siegel.

This image shows the 1120 Tower Avenue location in the 1960s.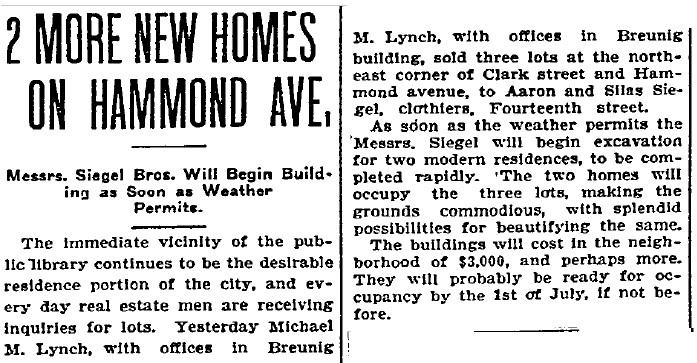 This March, 1, 1903 news article indicates that the Siegel brothers, Aaron and Silas Siegel, clothiers,
were building homes in Superior. (Silas in the news article was probably a misspelling of Elias.)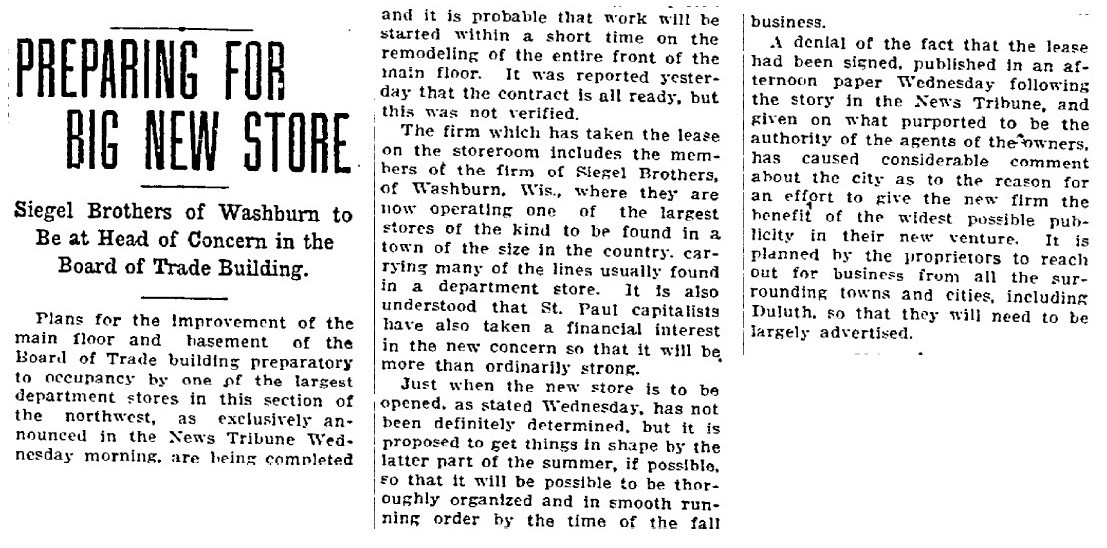 News article published on August 8, 1911


The following are ads published in the Superior High School yearbooks in the years indicated,
except where noted. The variation in the name they used and when the location changed can be seen.

| | | |
| --- | --- | --- |
| | | |
| 1930 | 1933 Gitche Gumee | 1937 |
| | | |
| --- | --- | --- |
| | | |
| 1939 Duluth Central | 1941 | 1948 |
| | |
| --- | --- |
| | |
| 1957 | 1961, 1963 |
| | |
| --- | --- |
| | |
| 1970 | 1979 |
| | |
| --- | --- |
| | |
| 1981 | 1982 |
| | | |
| --- | --- | --- |
| Created by: Allan@Garon.us | Feedback always welcome! | Page created Oct 2016 |