Samson Miller
Garrett's Cousins Garrett's Friends


Samson is a German shepherd who lives with our cousin Irv Miller near Rochester, Minnesota. Samson and Garrett are "cousins," related by way of the extended family tree of their two-legged companions.
In Irv's words from April 2010, "I have had 5 German shepherds so far, one at a time. I have had bad luck with my previous 2. They both died of cancer at age 8. They were great dogs. (One was Shayna.)

" My current shepherd [Samson] is 2 years old and still a juvenile delinquent. In addition to the expected chewing and digging, he chases cars, trucks and snowplows; steals shoes, towels, and mittens from the neighbors; and does just about anything he wants to do. He is very cute and affectionate, luckily, or he probably would be dead by now. He is the smartest of the 5 shepherds I have had. He learned all of the obedience commands immediately, but I had to use treats. I was able to train the others without treats. I tried a shocker collar on him to try to get him to stop chasing vehicles, but, with the maximum setting, he just pauses for a split second, 'shakes off' the shock, and continues after the vehicle. He is absolutely fearless. Discipline with pain to him is just an invitation to play harder. All he wants to do is play and hunt in my woods when he is not stealing or laying in ambush near the road waiting for a vehicle to chase."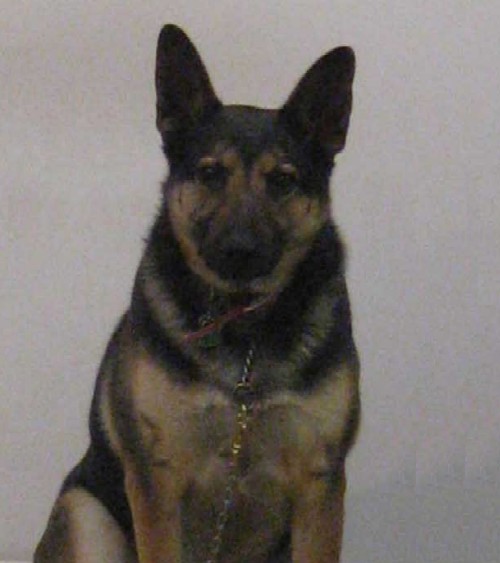 | | | |
| --- | --- | --- |
| Created by: Allan@Garon.us | Feedback always welcome! | Page created in June 2011 |