Lloyd Eugene Rigler
Industrialist, Investor and Philanthropist
A Notable Jewish Professional from the Greater Duluth-Superior Region


Lloyd Eugene Rigler (1915-2003) was born in Lehr, North Dakota. He was a son of Jeanette Shaindel Rosen and Abraham Frank Rigler.
Lloyd was a California industrialist and investor whose arts philanthropy ranged from music in Los Angeles to ballet in his native Northern Plains to the New York City Opera to public television. He was the founder of Classic Arts Showcase, an eclectic television service that distributes performing arts films at no cost to public television stations, and of the American Association for Single People, which fights for the economic rights of the unmarried.
A summary of information about Lloyd is shown in the Wikipedia clipping below. There is more on the full Wikipedia page at https://en.wikipedia.org/wiki/Lloyd_Rigler.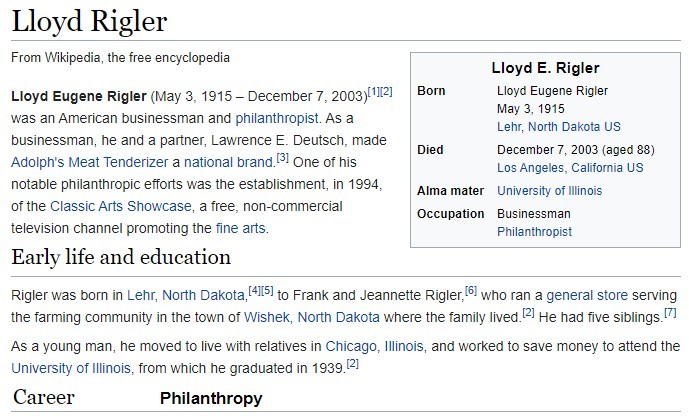 source: Wikipedia, the free encyclopedia



Lloyd Rigler's Vision cropped - - source: Classic Arts Showcase website - - pdf of entire article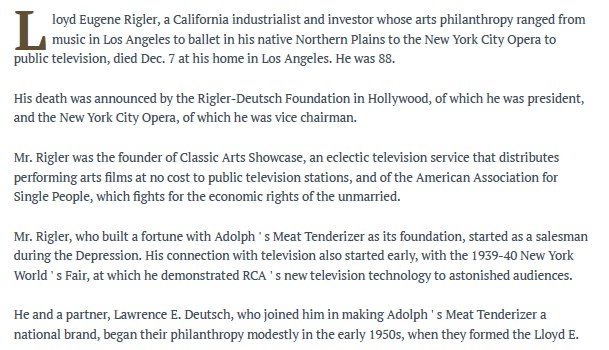 Lloyd Rigler's obit cropped
pdf of entire obituary - - - pdf of an extended obit and biography




| | | |
| --- | --- | --- |
| Created by: Allan@Garon.us | Feedback always welcome! | Page created July 2021; rev Aug 2022 |