Popkin Furniture Company - Superior


Popkin Furniture Company was located at 518-520 Tower Avenue in Superior. The store was owned and operated by Arnold Julius Popkin (1915-1988) and his brother-in-law Benjamin J. Marcovich (1907-1964). Arnold was a grandson of Sara Fox and Samuel Popkin and Benjamin was married to Samuel's granddaughter Susan Popkin (1909 - 2003). The store was originally owned and operated by Joe Popkin according to the 1919 ad further down this page.

Popkin's Furniture in Superior - courtesy of Jeff Missinne - December 2019
"The Superior Public Library provided me with a picture of the Popkin building.
I believe the building is still standing, though long vacant." - Jeff Missinne


According to Jeff Missinne:
"My impression that the Popkin building was still standing is incorrect, and was based on a misfiled photo of a building a block south. Popkin Furniture Co. appears to have closed its doors in 1980. The last owners/proprietors of the business were Harlan B. and Shirley R. Resnick. They may or may not have been Popkin family or in-laws; ... ."
"From 1981-85, the building was occupied by a bar and restaurant, The Windsurfer Lounge. Its owners were Jack Mattson and Dennis and Robert Olson. It appears the building was demolished in 1986, one Carol Rivord is listed as owner of a "lot" at 518 Tower. I am attaching a picture of the Windsurfer [see below]; the storefront is the same as Popkin's in its later years, only the signage was changed. This photo came from the Wisconsin Historical Society web site, you may be able to download a better quality image from them."
Harlan Bernard Resnick was born in 1928 in St Paul. He was a son of Edith Binder (1894-1998) and David Resnick (1891-1953). He was married to Shirley Rae Shussin who was born in 1930 in Furgus Falls, Minnesote.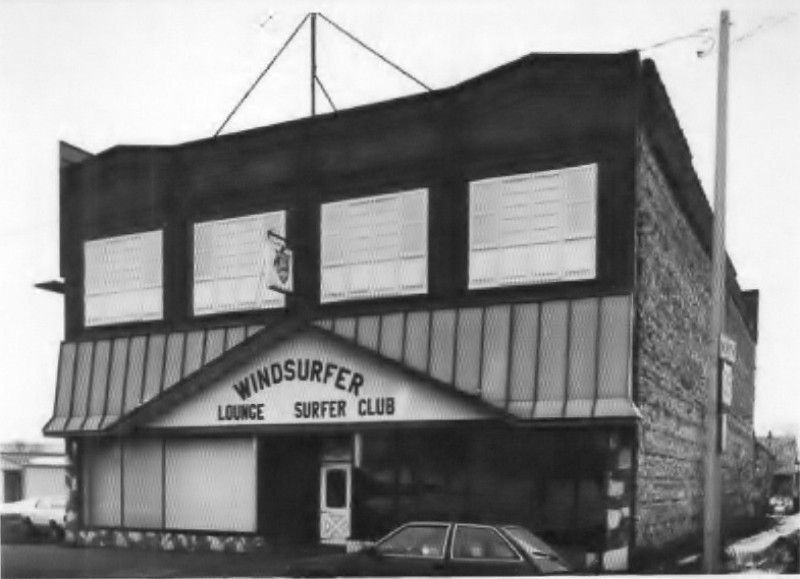 The Windsurfer later located in the Popkin Furniture location - Jeff Missinne


Some of the Popkin print ads are shown below.

The American Jewish World - 1919


| | | |
| --- | --- | --- |
| | | |
| 1925 & 1925 | 1927 | 1930 & 1933 |
| | |
| --- | --- |
| | |
| 1968 | 1970 |
Joe Popkin, the early owner of Popkin Furniture was likely Joseph Sam Popkin (1880-1966) from our database. He was married to Rose Altka Binder Popkin (1882-1949) and they had nine children, most or all of who were born in Duluth. Joe and and Rose are listed with their children below.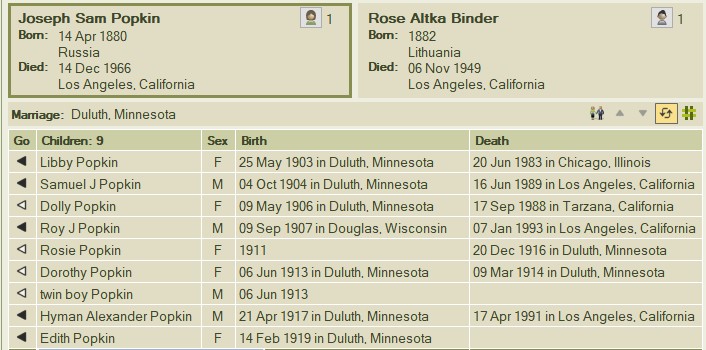 source: Jack's Family Tree Database



Popkin Furniture was later operated by Arnold Julius Popkin (1915-1988) who was a nephew of Joe Popkin. The connection between Arnold and his uncle Joe is shown below. Arnold was married to Anne Rebecca Cohen Popkin (1918-2007) and they had three children, all born in Superior between 1942 and 1947.

source: Jack's Family Tree Database


Arnold was a son of Anna Binder Poplin (1883-1962) and Samuel L Popkin (1875-1939) as shown in the two-generation descendents list below.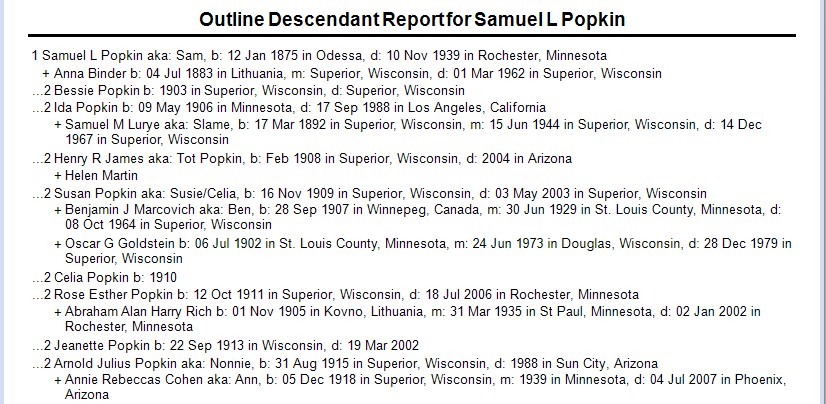 source: Jack's Family Tree Database


According to the obituary of Arnold's wife (further below), Arnold was in business with his brother-in-law Ben Markovich. Ben was Benjamin J Marcovich (1907-1964) in our database. He was a son of Celian Davis Marcovitch (1890-1968) and Abraham Joesph Marcovitch (1882-1944) as shown below in their two generation descendents list. Ben was the first husband of Arnold's sister Susan Poplin (1909-2003). Susan's obituary is shown further down the page.


source: Jack's Family Tree Database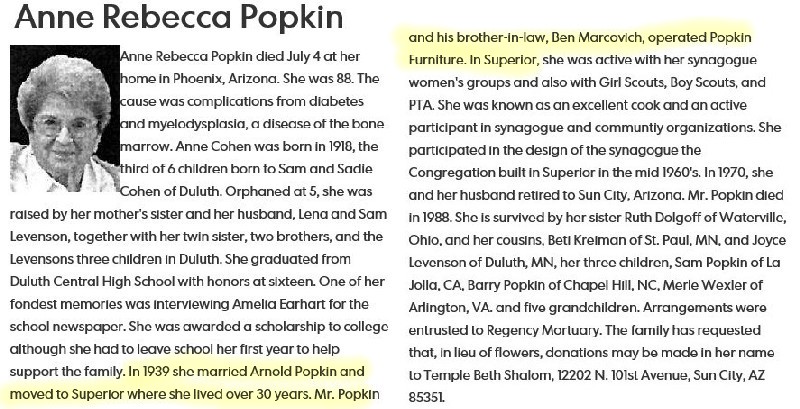 Anne Rebecca Popkin was the wife of Arnold Popkin. She passed away in 2007.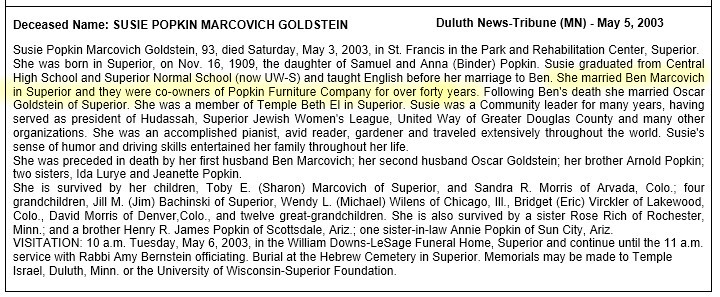 S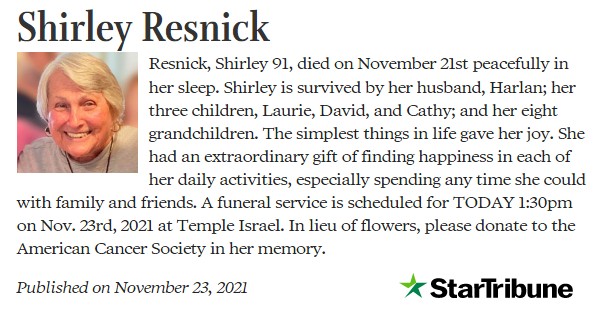 Shirley Rae Shussin Resnick, wife of Harlan Bernard Resnick. She passed away in 2021.
They were the last owners of Popkin Furniture.




captured from a 1993 video advertizement
"The TV commercial frame you have on your web page [pictured above] is not the Popkin Furniture store in Superior, WI.
I believe it may be of a store in Richmond, Virginia; no idea if the families are related.
I can't remember Popkin's in Superior ever doing any TV advertising,
though they were a regular presence in the newspaper for decades." - Jeff Missinne




| | | |
| --- | --- | --- |
| Created by: Allan@Garon.us | Feedback always welcome! | Page created Oct 2016 |