Latts Brothers / R Latts & Son
Duluth and Hibbing


R Latts and Son and Latts Brothers were businesses in Duluth and Hibbing. According to the news clippings below, R Latts and Son was a jewelry, clothing and gent's furnishings store in 1919 at 627 West Superior Street and 320 West Superior Street in Duluth. Latz (maybe Latts) Bros was a cleaning and dyeing business that was opening in Hibbing in 1912, as quoted by R Latz. Latts Brothers also had a Duluth location at 517 and 607 West Superior Street in 1919.
No further information is available.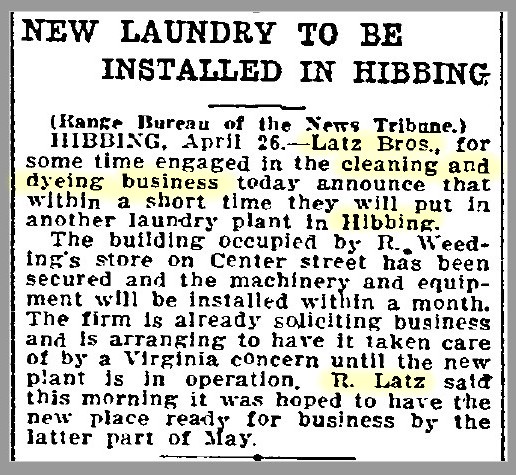 April 4, 1912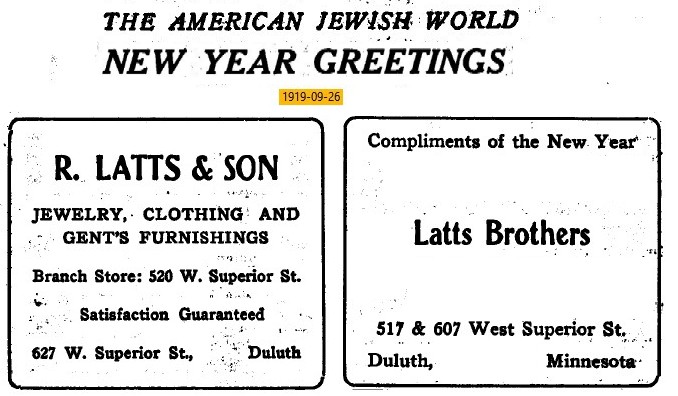 American Jewish World - September 26, 1919



R Latts was probably Roy J Latts (1866-1941) in our family-tree database. He and his wife Sarah had one daughter and three sons. Their two generation tree data is shown below.


source: Jack's Family Tree Database



| | | |
| --- | --- | --- |
| Created by: Allan@Garon.us | Feedback always welcome! | Page created May 2022 |