The Hub Clothing Company - Duluth
and The Hub Clothiers - Virginia


The Hub Clothing Company was located at 225 West Superior Street and at 107 West Superior Street in downtown Duluth. William Abrahamson was the proprietor in 1903 and Isaac Abrahamson was president. The business apparently went bankrupt in about 1906 and again in 1921.
The Hub Clothiers was located in Virginia and was owned by the Rubenstein family, brothers Joe, Max and Harry. Although the stores shared a name, I do not know if the businesses were related. Published ads and news articles about the two stores are shown below.
| | |
| --- | --- |
| | |
| Apr 25, 1896 ad in Labor World | 1901 newspaper ad - - hi res |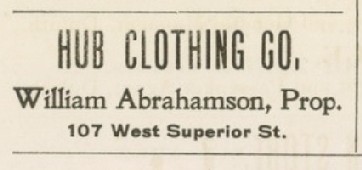 1903 Duluth Central HS yearbook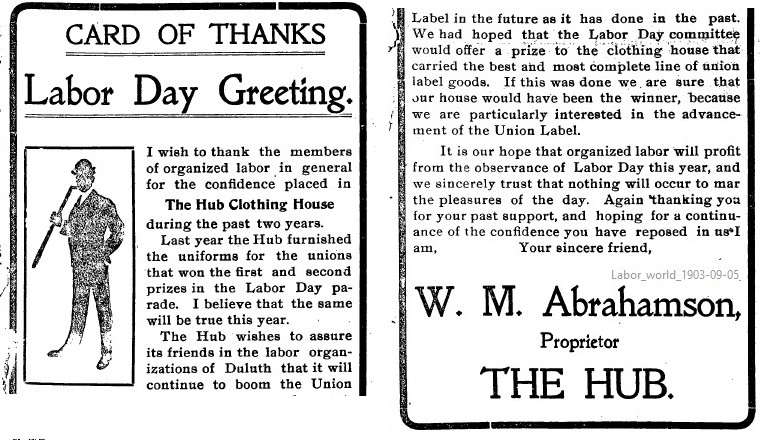 The Labor World - - 1903-09-05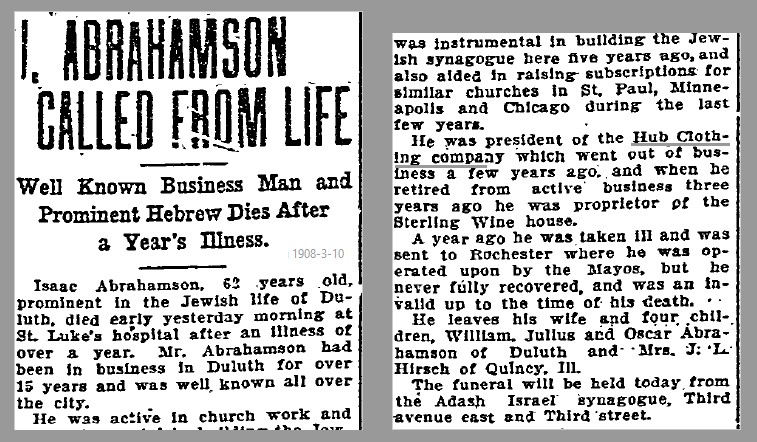 March 10, 1908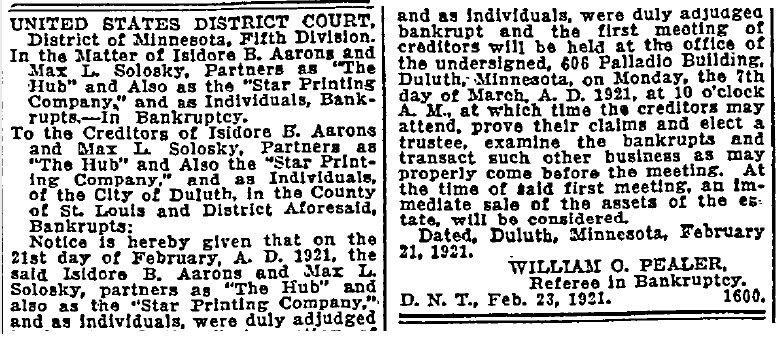 February 23, 1921 - Duluth News Tribune


| | |
| --- | --- |
| | |
| 1948 Gilbert HS yearbook | 1954 Gilbert HS yearbook |
Isaac Abrahamson was the president of Hub Clothing Company in Duluth and his son William Abrahamson was listed as proprietor. A two-generation list of the descendents of Isaac and his wife Hannah Samuels is shown below.


source: Jack's Family Tree Database


The Rubenstin brothers, Joe, Max and Harry, were the sons of Tilly "Tillie" Kapplan and Abraham Rubenstein. They are listed in our database as Joseph Rubenstein (1901-1977), Max P Rubenstein (1904-1969) and Harry Rubenstein (1908-1973). Max and Harry were born in Eveleth and all three died in St. Louis County. Abraham and his children and spouses are list below in his two-generation descendents list.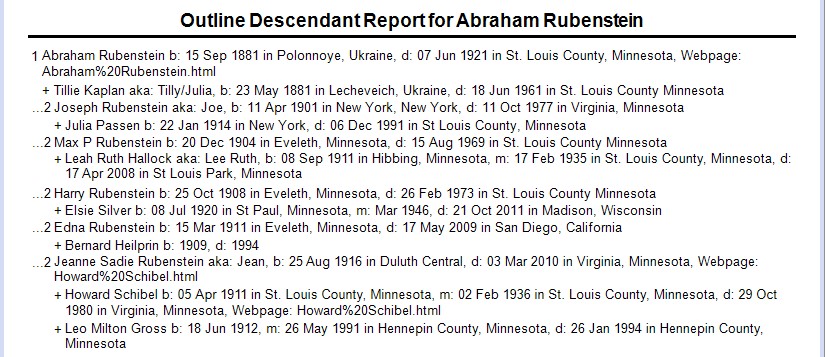 source: Jack's Family Tree Database



| | | |
| --- | --- | --- |
| Created by: Allan@Garon.us | Feedback always welcome! | Page created Oct 2016; rev Apr 2022 |