Hotel & Restaurant Supply - Duluth


The Hotel & Restaurant Supply business was located in Duluth and operated by Ben R Green and his son Edward A Greene. The undated advertisement below sends holiday greetings from them and their families.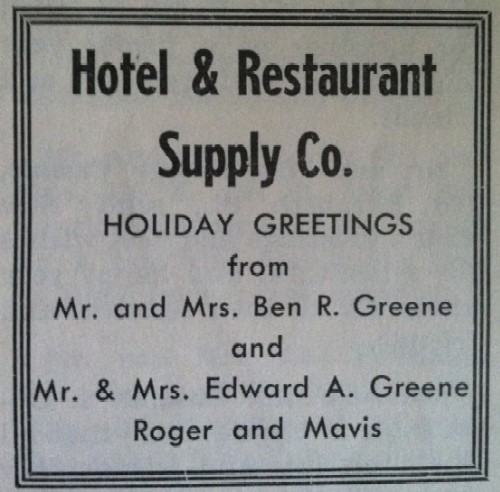 date unknown


Benjamin R Greene (1898-1973) and his son Edward Arthur Greene (1918-1984) operated the Hotel & Restaurant Supply Company. Ben was a son of Rose and Meyer Greene (1869-1934). Ben was married to Sarah Lilliam Rivers Green (1900-1962) and they had the one son Edward. Edward was married to Mildred Yellin (1929-2004). A three-generation descendents list for Sarah and Ben is provided below.


source: Jack's Family Tree Database



| | | |
| --- | --- | --- |
| Created by: Allan@Garon.us | Feedback always welcome! | Page created May 2022 |