Duluth Public Library - Duluth


The Duluth Public Library provides access to many resources for Jewish genealogical research. These include their high school and college yearbook collections and their index of obituaries published in the Duluth News Tribune.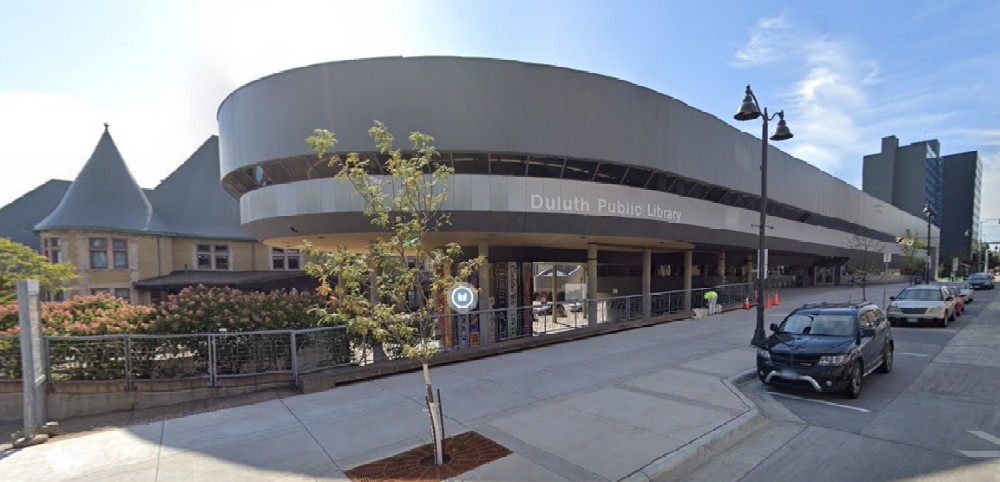 September 2019 - source: Google Street View


In 2008, we travelled in our motorhome to Duluth to attend the family reunion that was organized by our cousin Jack Abramson. After the reunion we spent a week at a resort on the North Shore of Lake Superior with my siblings and their spouses and a day in Eveleth visiting our cousin Jack Siegel and his family at their lake home. Then we returned to Duluth and stayed in a campground on Park Point a few blocks south of the Aerial Bridge. I spent a day at the Duluth Public Library browsing thru their yearbook collection, and I captured hundreds of photographic images of our relatives and ancestors. Of course, now, 14 years later, most of the yearbook photos can be found online.
The Duluth Library also has a Duluth Area Obituary Index online. It includes obituaries printed in the Duluth News Tribune newspaper from 1948 to the present. The index is searchable by name and other details, and it will generate a listing on names meeting your search criteria. The actual obits can be ordered online for three dollars each (used to be a dollar) and the library will send them to you by email. I have ordered hundreds of obits over the years and have incorporated all the information into Jack's Family Tree Database.
| | | |
| --- | --- | --- |
| Created by: Allan@Garon.us | Feedback always welcome! | Page created Apr 2022 |