People's Meat Market- Superior


People's Meat Market was located in Superior at several different locations over the year as indicated in the four advertisements shown below. The store was operated by Milavetz and Titch. We are not sure if this store is in any way connected to Milavetz Meats and Groceries also located in Superior and operated by Arnold Bert Milavetz.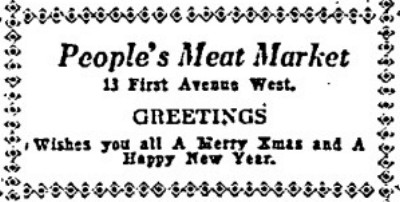 1917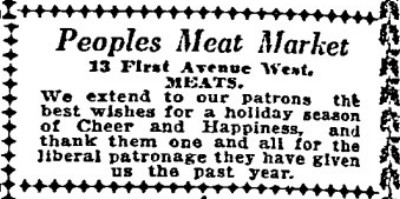 1922


1922


1937


We do not know which of the Milavetz men was associated with this store. With regard to the person named Titch, we suspect that he may have been Harry Titch (1885-before 1940). Harry was a son of Libba Buna Titch (1865-1934) and Joseph Titch (1871-1917). Harry was married to Hannah Berzon Titch and they had five children. The children were all born in Wisconsin (some in Superior) between 1908 and 1925. A two-generation descendents list for Hannah and Harry is presented below.


source: Jack's Family Tree Database



| | | |
| --- | --- | --- |
| Created by: Allan@Garon.us | Feedback always welcome! | Page created May 2022 |