Lieberman, The Tailor - Ironwood


Lieberman, The Tailor was located in Ironwood at 324 Aurora. It was also known as Lieberman's Tailor Shop, T. Lieberman Clothing and Lieberman -- Merchant Tailor. It was operated by Theo Lieberman who was Theodore I Lieberman (1887-??) in our database.
The earliest clipping found regarding a Lieberman tailor shop was from 1917 for M. Lieberman Tailor as shown below. The clippings from 1920 to 1929 that follow are for the Theo Lieberman shop in Ironwood.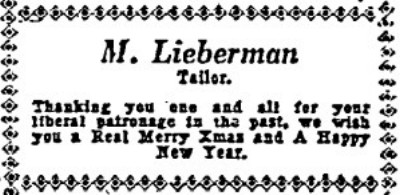 M Lieberman Tailor - 1917



Theo Lieberman as a tailor was written up in Who's Who in Ironwood as follows: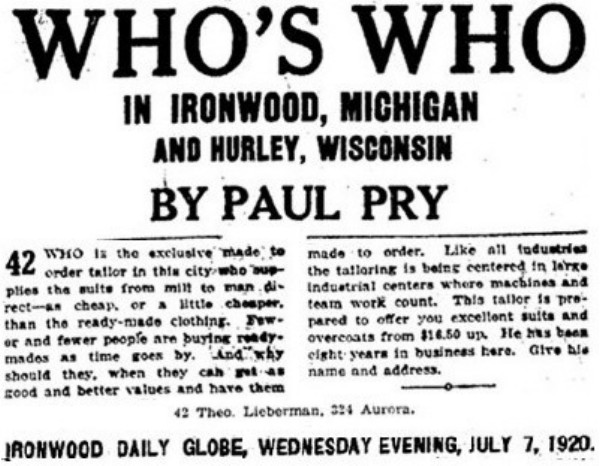 more



The following news articles regard Theo Lieberman's shop in Ironwood were published in the Ironwood Daily Globe on the dates indicated. The store was apparently operating from about 1920 to 1929.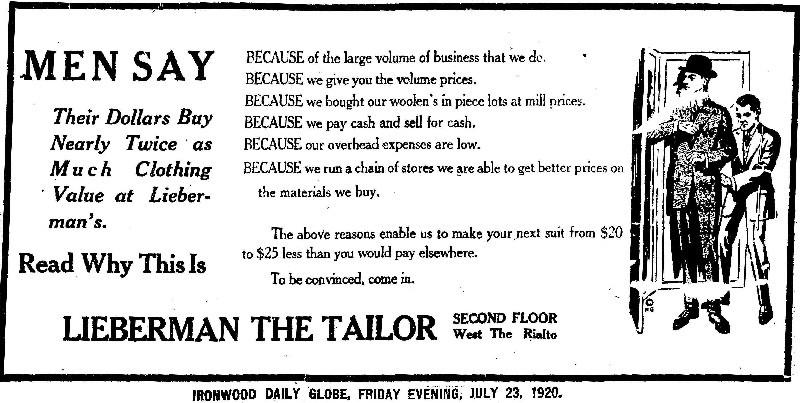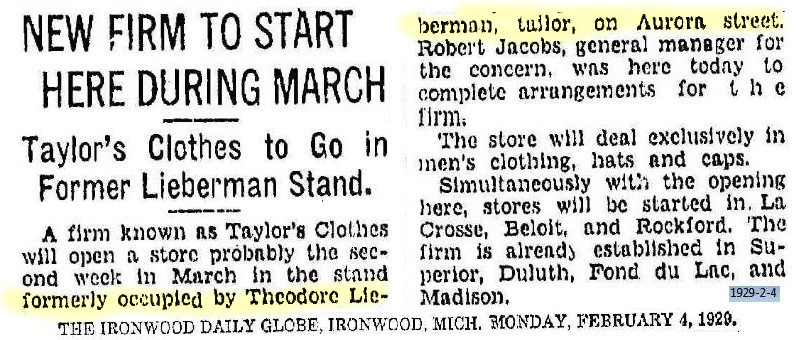 Theodore I Lieberman (1887-??) was a son of Adele Reichman and Elizar Lieberman. He was a brother of my grandmother Bella Lieberman Horwitz Davis (1886-1954). Theodore was married in 1916 to Sara Bessie Salonovitz (1892-1971) and they had three sons, Leonard, William and Thomas, born in 1916, 1921 and 1923, respectively. Family tree data are shown below in the two-generation descendents list for Adele and Elizar.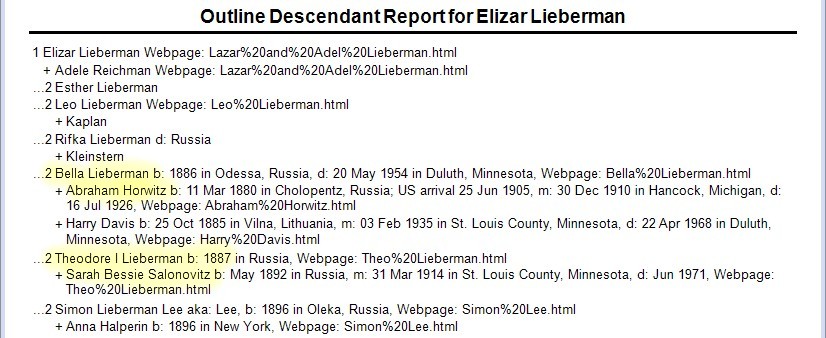 source: Jack's Family Tree Database



The Lieberman family moved from Ironwood to Chicago between 1929 and 1930, based on the information in the 1929 news article above and 1930 census data.








| | | |
| --- | --- | --- |
| Created by: Allan@Garon.us | Feedback always welcome! | Page created May 2022 |